COLLEGE
Cornell University in Ithaca, New York
FIRST REAL JOB
Private investigator for Investigative Group (IGI) in NYC
MOST RECENT JOB BEFORE SUBURBAN JUNGLE
Private investigation consultant
WHAT SHE APPLIES FROM HER PREVIOUS CAREER TO HER WORK WITH SUBURBAN JUNGLE
"I was always a good researcher—if I didn't know the answer, I searched and searched until I found it. It's similar to learning about the suburbs. I also like working together as a team to get the job done."
WHAT SHE LOVES MOST ABOUT WORKING AT SUBURBAN JUNGLE
"I have learned so much about what makes the suburbs tick! I have a new appreciation for how our service can really make a difference. And I enjoy working daily with my co-workers and learning from them."
WHAT SHE LOVES MOST ABOUT WORKING WITH SUBURBAN JUNGLE FAMILIES
"I love meeting new people and helping them as they make this HUGE decision."

ABOUT HER FAMILY
"My husband Joe and I have four kids, ages 24 to 15. Al attended University of Michigan and currently works for the football program there. Jake attended Syracuse University and now works for my husband in investments. Jordan is a Junior at University of Colorado, Boulder, and Sylvia is in 9th grade at Paul D. Schreiber High School in Port Washington, New York. Each of the kids went to Port Washington schools for K-12, and they've been involved in lacrosse, soccer and football at the school level and town teams. They loved growing up here and hope to return someday with their own children!"
WHERE SHE MOVED FROM
Manhattan
WHERE SHE CALLS HOME
Port Washington, on Long Island
​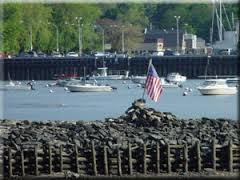 WHEN IT ALL HAPPENED
Erika and her husband moved from NYC to Port Washington 21 years ago. She grew up in Rye Brook and Joe grew up in Great Neck and the city, "so I knew we'd have to compromise somewhere!"
WHY SHE CHOSE PORT WASHINGTON
"We explored many towns—we really needed Suburban Jungle back then!—and we decided on Port Washington after looking for two years. I loved growing up in Rye Brook, but I wanted a larger community for my children to grow up in.
Port Washington is such a special place. We are surrounded by water, beautiful sections to live in and a nice walkable Main Street. We have a unique diversity here. My children have had lots of friends from all over the world and there is a very inclusive feel to the community. The commute is very easy, as we have our own train line and most residents can walk to the train. I love driving down Shore Road everyday and watching the sunset. It reminds me how lucky I am to live here!"
​
Related Posts...
From New York City to Port Washington...
Getting started in the suburban jungle...
WHAT SHE'D TELL CITY FAMILIES CONSIDERING MAKING A MOVE"It is so important to like the town and the people that live there. Really spend time in the town, eat lunch, grab a cup of coffee and see the people and how they interact. There will always be a house in whatever town you decide on."
WHY SHE WORKS FOR SUBURBAN JUNGLE"I love helping families navigate the suburbs. It is a such a daunting process from start to finish so I am so satisfied when I introduce a client to a new town or reassure a client that the town they like is the one for them! It is a very gratifying job and I am so happy I can help families discover the right suburb for them!"
Suburban Jungle is an award-winning firm that specializes in moving families from urban to suburban. The company's innovative "town first" approach helps buyers find the right suburb for their family based on personality and lifestyle, not just the house. Services are FREE and fully customized to each family and their unique journey. To learn more and to connect with a Suburbs Strategist, and find the place your family truly fits in visit www.suburbanjunglerealty.com and click GET STARTED.
image credit: Zillow.com
​
In the 'burbs with Suburban Jungle Strategist ERIKA ADES!

As an NYC Strategist for Suburban Jungle, this mom of four helps city families navigate 500-plus 'burbs—no small feat! But ERIKA ADES IS UP FOR THE CHALLENGE!
​